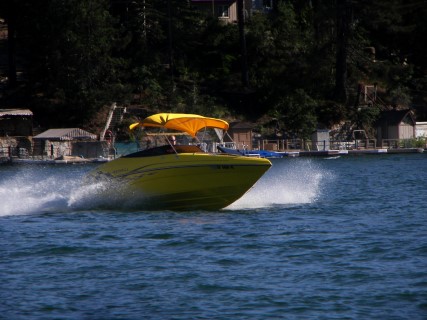 Boating accidents, like auto accidents, are traumatic experiences. If you are ever in a boating accident, would you know what you should do? It is better to know what to do ahead of time, before an accident, so that you are better prepared to protect yourself and your rights. Remembering the following steps is essential to knowing what to do in the event that you or a loved one is a victim of a boating accident.
Stay calm and don't leave the scene.
Immediately call 911:

Call for medical help if someone is injured.
Call the police. They will document the accident and gather facts and evidence for legal purposes. If the police are not called it is your word against the other person's.

Use your cell phone to take photographs of the accident scene and any injuries.
Contact your insurance company as soon as possible to report the accident.
Remember not to discuss the accident with anyone or blame anyone or yourself, before consulting with an attorney.

Any statement you make can be used against you.
Do not speak with the at-fault party's insurance company before consulting with an attorney because they could use any statement you make against you.

If another boat is involved in the accident, be sure to exchange information with the other parties.

Addresses
Phone numbers
Boat registration number
The make, model, and year of the boat
Boater license number
Insurance information

Get the names, addresses, and phone numbers of any witnesses.

Remember, the passengers involved in the accident are not considered witnesses.

Again take pictures of the accident. Take plenty of pictures to that you can effectively describe the accident.
Photograph:

The damage to the boat
The area around the accident
Any injuries
Other parties involved in the crash
The registration number on the boat

Collect any physical evidence that is around the scene of the accident that you think could help your case.
Take notes on the details of the accident:

What happened
The weather conditions
The date and time
Draw a diagram of the accident
The location of the accident (include any landmarks)
Or any other information that you feel is important

Call an attorney

The longer you wait to speak with an attorney, the harder it is to prove your case.
Remember to get legal advice before signing any papers from the insurance company or agreeing to a settlement.
A boating accident is never something that people expect to happen. However, taking safety precautions and knowing these steps ahead of time can help you protect yourself in the event of an accident. If you have been involved in a boating accident, call Colombo Law at 1-888-860-1414, and we will assist you in your case.