Trucks, tractor-trailers, 18-wheelers; no matter what you call them, you see them on our streets and highways all the time. They're enormous vehicles designed for carrying large quantities of products and supplies across the country. Unfortunately their size, which makes them so useful as a method of transport, also makes them incredibly dangerous to other drivers. Fully loaded, a big rig could weigh upwards of 40 tons. They are extremely heavy vehicles, especially when you compare them to your average 1.5-3 ton  passenger vehicle.
The immense weight and size of a tractor-trailer means that it can do serious damage to passenger vehicles and their occupants. Truck accidents also pose a unique legal problem, as the truck driver may not be the only person responsible for the accident. This combination of serious injuries and legal complications makes 18-wheeler accidents difficult to handle without the help of a Columbus, Ohio truck accident lawyer.
Types of Truck Accident Injuries
Truck accidents are often far more devastating than car accidents. Most passenger vehicles are fairly safe when matched with a similar vehicle; but when they're hit in a serious commercial truck accident, the average car or SUV doesn't stand a chance.
There are many factors that can determine whether the occupants of a passenger vehicle will walk away or be injured in a truck accident. As attorneys, we have seen clients sustain:
Neck and back injuries
Whiplash
Ligament and disc injuries
Broken bones
Traumatic brain injuries
Partial/complete paralysis
Spinal cord injury
Organ Damage
Lacerations
Severe bruising
Additionally, emotional damages are a legitimate concern after an accident of this magnitude, and can leave victims suffering from depression, anxiety about driving, guilt, or PTSD.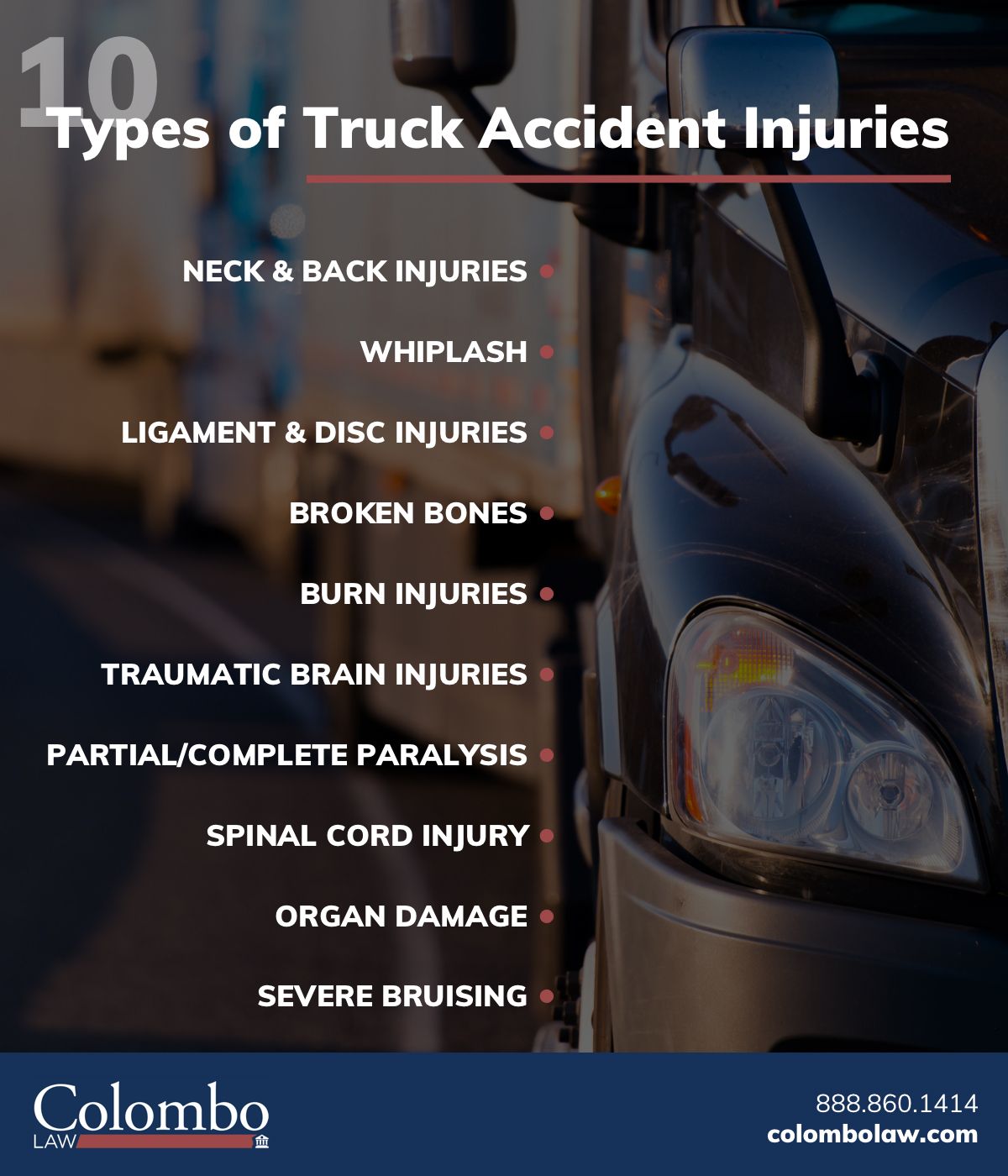 Causes of Columbus, OH Truck Accidents
Tractor-trailer accidents, like car accidents, are often caused by negligence. When a negligent driver causes a truck accident, it could be because they were:
Falling asleep at the wheel
Driving while distracted (texting, eating, etc.)
Ignoring traffic signals/signs
Speeding
Driving under the influence of alcohol or drugs
Ignoring current weather conditions
Violating company, state, or federal trucking laws
Engaging in road rage/aggressive driving
Failing to yield the right of way
Tailgating
Who is Responsible for Truck Accidents?
The common causes of truck accidents listed above pertain mostly to the driver of the truck. However, it's important to note that the liability and fault for a Columbus, OH truck accident could fall on one of several other parties.
The first is the employer. The are plenty of standards and procedures trucking companies must follow in order to be compliant with state and federal trucking laws, but these things could be easily ignored or overlooked. The truck driver's negligent employer could be found at fault for the accident if they:
Forced the driver to work more hours than legally allowed
Enforced deadlines that caused the truck driver to hurry
Hired a driver without proper training or experience
Didn't perform routine maintenance on the truck's safety equipment, parts, and computers
Didn't investigate driver history (background check, drug test, etc.) before hiring
Sent out an overloaded truck
Next, the manufacturer of the truck could also be held liable for your property damage or personal injuries. For example, the manufacturer may have known about a defective part but neglected to tell the public or recall the item.
As you can see, there are a plethora of people who could be partially or wholly at fault for your truck accident, but making this determination can be incredibly complicated. If you or a loved one have suffered injuries due to a truck accident, it's best to contact a Columbus, OH truck accident lawyer to help you with your case.
What Can I Receive Compensation For After a Truck Accident?
Once you know who is liable for your damages and expenses, you can seek compensation from the at-fault party for things like:
Pain and suffering
Property damage
Lost income
Loss of future earning ability
Loss of enjoyment of life
Inconvenience
Loss of companionship
Physical injuries
Disfigurement
Medical expenses and equipment
Emotional trauma
Wrongful death
National Commercial Vehicle Accident Statistics
Truck accidents occur all the time in the United States. The U.S. Department of Transportation reports that in 2015:
There were 3,598 fatal accidents involving 4,050 trucks and resulting in 4,067 fatalities
84 percent of the fatalities were either pedestrians or occupants of a passenger vehicle
There were 83,000 injury accidents involving 87,000 trucks and causing 116,000 injuries
There were 328,000 property damage only accidents involving 342,000 trucks
Columbus, Ohio Truck Accident Statistics
Columbus is a large city with many major trucking routes running through it. While that's good for our economy, it also means there are a lot of truck accidents in Columbus each year. According to the Ohio Department of Public Safety, in 2016 there were:
1,675 truck accidents
These resulted in 1,345 instances of property damage, 436 injuries, and 6 deaths
363 of those injured were occupants of passenger vehicles and only 73 were occupants of the large truck
All 6 of the people killed were occupants of passenger vehicles
The number one cause of truck accidents in Columbus in 2016 was a collision with another motor vehicle
Read About Car Accident Statistics in Ohio
Why Should I Hire a Truck Accident Lawyer?
As an individual, hiring a truck accident lawyer gives you the best chance of reaching a successful outcome after standing up to a large trucking company and their insurer. These people are only interested in silencing you and paying you as little as possible. No matter what they say, they are not interested in helping you.
A Columbus truck accident attorney is the only person you can count on to protect your best interests and fight for your right to fair compensation. They'll aggressively pursue your claim by gathering:
Camera footage
On-scene and expert witness statements
Police reports
Phone call recordings/logs
Medical records
Driving logs
Maintenance records
Weigh-in information
Vehicle and driver history
Evidence of violations of trucking laws
Criminal records
Vehicle/part defect and recall information
Columbus, Ohio Truck Accident Lawyers
Contacting a Columbus truck accident attorney right away is essential to preserving your case. When you get in touch with us to find out if you have a case, that allows us to get a head start on observing evidence like skid marks, debris, and fluid spills before they have a chance to be carried away by the elements, lost, or damaged. It also gives us more time to file your claim within Ohio's two-year statute of limitations.
The semi-truck accident attorneys at Colombo Law have helped victims throughout the Columbus area, including in neighborhoods like:
Bexley
Clintonville
Dublin
Downtown Columbus
Eastmoor
Franklin Park
Grove City
Franklinton
Northland
Greater Hilltop
Upper Arlington
Westland
Lindon
Worthington
Interstate 70
Interstate 270
Ohio Route 161
Ohio Route 16
Ohio Route 37
S. Route 40
S. Route 33
S. Route 22
S. Route 23
If you or a loved one was hurt or killed in a Columbus, Ohio tractor-trailer accident, contact the truck accident attorneys at Colombo Law. We offer free, no-obligation consultations and only charge for our services if we successfully resolve your case. Call to get started at 614-362-7000.