Experienced Attorneys for Truck Accident Victims
If you've been in a serious accident involving a truck – also known as a tractor-trailer, 18-wheeler, or semi-truck – your life has most likely been turned upside down.
You might be facing serious injuries, damage to your property, a growing pile of medical bills, and a lot of uncertainty about what to do next.
But, as you may have realized by now, receiving the compensation you need can be difficult. Typically, there are several parties involved, including the driver, their employer, the truck's manufacturer, and their insurance company, none of whom are going to readily admit fault for an accident. In addition, insurance companies employ teams of lawyers and claims adjusters who are highly skilled at paying out as little compensation as possible. In fact, trucking companies have teams of lawyers across the countries designated as "24 Hour Response Teams" who will report to the scene of an accident to begin the trucking companies defense – even if the crash happens in the middle of the night.
This is where Colombo Law's truck crash lawyers come in. You have every right to pursue compensation for your injuries, property damage, and pain and suffering, and Colombo Law is here to help. It is what we do every day.
In order to recover damages for what has been taken from you in the way of health and financially, you need to be able to prove your case against highly skilled insurance attorneys while also trying to navigate a complicated legal system.
How Dino Colombo Handles Truck Accident Cases
How Our Truck Accident Lawyers Can Help
Even if you were completely faultless in the accident, the deck might seem stacked against you. Primarily, this is due to the aggressiveness and experience of insurance companies. They'll do whatever they can to pay you as little as possible, and they're very good at it.
The good news: hiring a truck accident lawyer evens the playing field. It gives you the advantage of having your own aggressive, experienced lawyer who is doing everything he or she can to ensure you receive the compensation you need and deserve following an accident.
A few of the most important things the attorneys at Colombo Law can help accomplish include:
Preparing your case: When you file a claim with an insurance company, you need to have a good understanding of how much compensation you may be entitled to, and how much you are likely to receive. However, how do you account for future medical bills, for pain and suffering, or for the wages you might have lost from not working? Will your injuries be permanent? And what if the driver wasn't at fault, but instead the manufacturer? These are challenging questions that rely on a great deal of legal experience and knowledge to answer. Perhaps you've heard a truck driver say, "my brakes just went out, it's not my fault." An experienced truck accident lawyer will be able to find out why the truck's brakes failed. Was it improper maintenance by the trucking company, or was it improper driving and braking by the driver?
Gathering evidence: Everything you claim in negotiations – or in court – will need to be solidified with proof. You might claim your injuries cost you $100,000 and will cost you $50,000 more in the future, but you have to prove these claims. An attorney will help you properly document your injuries and get the expert testimony you need to prove both fault and the extent of your damages.
Negotiating with insurance companies: As mentioned, insurance companies are extremely good at getting people to accept less money than they deserve. They might say their first offer is their best offer, making you feel as if you have no options. They may deny that their driver was at fault and make a lowball offer because "it's better than nothing". But, if they know you're working with an aggressive attorney who is willing to take them to court, you'll have a much better chance of receiving the compensation you deserve.
Taking your case to court: While it's often ideal to settle out of court – for both you and the insurance company – you must be willing to go to court if they are unwilling to sufficiently compensate you. For most people, the prospect of doing that alone is overwhelming. However, an experienced trucking attorney will know the proper time to escalate your case to this level and will be there to represent you throughout the trial while advocating for your rights. More importantly, at Colombo Law, we are trial lawyers and the insurance companies know it. They know that if they don't offer you a fair settlement, we will take them to court to get you the justice you deserve.
Ultimately, the value that truck accident lawyers bring to your situation is vital for receiving the compensation you need and deserve.
Not only that, but the sooner the better. Cases take time to prepare, and you can be sure the insurance company has already started its investigation.
Who Is Responsible for My Truck Accident?
After an accident, it's generally assumed that the responsible party is the driver. Indeed, this is often the case, and it can usually be attributed to things like:
Falling asleep at the wheel
Reckless driving, including speeding
Driving under the influence of alcohol or drugs
Driving while distracted, including texting, eating, etc.
Overdriving headlights
Improper driving leading to overly aggressive braking and brake failure
Improperly driving in inclement conditions
Essentially, if the cause of the accident was the driver's negligence, they will be held responsible.
That said, it might not be the driver's fault. Instead, the fault might land on the driver's employer. Maybe they made the driver work too many hours, or they didn't properly train the driver, or they overloaded the truck, or they didn't properly investigate a driver's background and put a dangerous driver on the road.
Regardless, a truck driver's employer can absolutely be held responsible if their negligence contributed to the cause of the accident.
Similarly, the truck's manufacturer could be to blame. If a part on the truck was defective and the manufacturer knew about it but didn't recall the part or inform people, they could be held responsible.
So, while the cause of your accident might seem clear-cut, it could take some time to figure out who, exactly, is responsible, and what the cause was. Working with an attorney who knows how to investigate truck accidents can help you narrow down the liable parties while gathering the evidence needed to support your claim.
How Negligence Is Established Following a Truck Accident
Regardless of who is ultimately held responsible for the accident, you will need to prove this negligence to receive compensation. Clearly, this can be a complicated process that requires compiling a lot of evidence.
Beyond the evidence gathering and research that needs to be done, you might also need to find experts who can provide testimony to support your claims. For example, if a manufacturer didn't properly deal with a defective part, having a mechanical expert who can explain the defect might be very beneficial to your case.
You might also be able to leverage the testimony of witnesses who saw the accident take place, or those who have experience working with the driver's employer. If, for example, the driver claims they were overworked, having other drivers from the company back up this claim would be useful for proving negligence on the part of the employer.
Ultimately, so much depends on the specifics of your case. Every accident is different, and each requires a flexible approach based on a thorough understanding of truck accident lawsuits.
If you've read this far, you have probably realized a truck accident is very different from a car accident – and much more complicated. This is why people who have been involved in truck accidents need a truck accident lawyer.
Common Injuries from Truck Accidents
For obvious reasons, truck accidents tend to be more serious than car accidents. After all, a fully-loaded 18-wheeler can weigh upwards of 80,000 pounds, over ten times that of a regular passenger vehicle.
Hence, when we look at the injuries often associated with truck accidents, we find some very serious ones, including:
Neck and back injuries
Whiplash
Ligament and disc injuries
Broken bones
Traumatic brain injuries
Partial/complete paralysis
Spinal cord injury
Organ damage
Lacerations
Severe bruising
These injuries are not only very painful and difficult to recover from, they're also expensive to treat. Ultimately, this means the stakes for truck accident cases are often very high for both the victim and the defendant.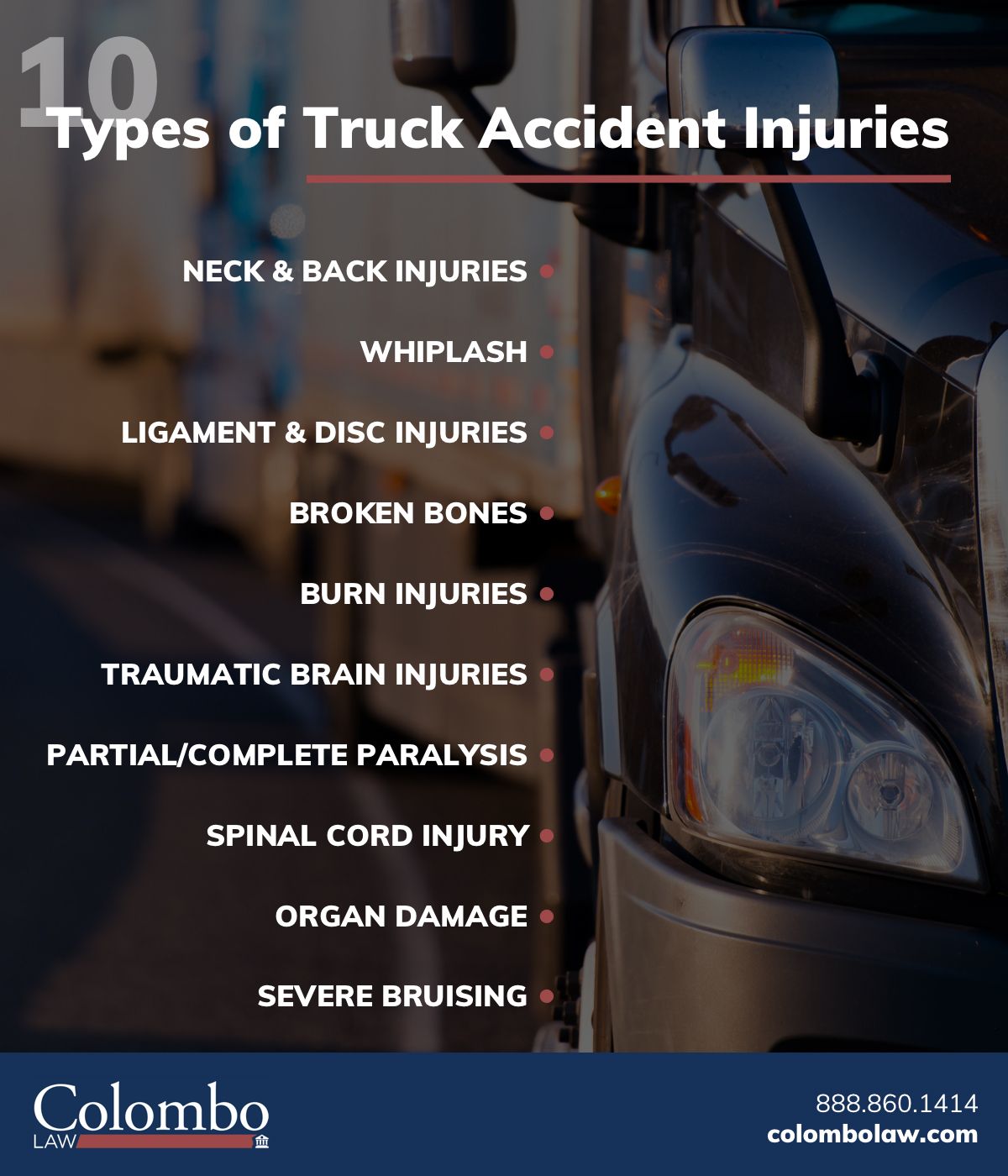 Truck Accident Statistics
Being that Columbus is located within a day's reach of much of the nation, there are many logistics companies that operate out of the city. In fact, there are about 4,400 logistics companies stationed in the Columbus area. In addition, Columbus is at the intersection of two important and heavily traveled interstate highways – I-70 and I-71.
As a result, there are a lot of trucks driving in and out of Columbus on a daily basis. These trucks are coming from all across the United States – from California to Florida and Maine. While this is great for business, it does, unfortunately, also mean that we see a lot of truck accidents.
According to 2019 statistics from the Ohio Department of Public Safety, in Franklin County there were:
1,360 accidents involving semi-trucks, 9 of which resulted in a fatality
282 truck accidents involving injuries (33 of which were serious)
1,069 truck accidents resulting in property damage
The most common types of accidents are sideswipes and rear-ends, with those two accounting for 64% of all truck accidents. Additionally, rear-ends were the most common type of collision in accidents involving fatalities.
What to Look for When Choosing a Truck Accident Lawyer
When choosing the right attorney to handle your case, it's important to keep a few key things in mind:
Experience above all: As we've discussed throughout this page, truck accident cases are complex and require a good deal of skill to properly manage. This is why a proven history of successfully winning cases is so important.
A good reputation: Check out the reviews and testimonials for attorneys to make sure their clients have spoken well of them. If you see a lot of negative reviews – or little to no reviews – it's not a good sign. You'll also want to make sure that the attorney has a list of cases they have won on their website. If the numbers all seem low or there are no examples, it could signal a lack of experience.
A willingness to go to court: It's imperative that you and your attorney are willing to go to court if the insurance company is unwilling to sufficiently compensate you. If an attorney only talks about settling out of court, they probably aren't going to do whatever they can to get the compensation you deserve.
Good rapport: While finding an attorney with the right credentials and approach is necessary, we also think it's important that you get along well with your legal team. There needs to be trust and understanding between you and your attorney, so make sure you meet with attorneys before deciding to work with them.
In other words, knowing whether or not you should hire a certain attorney comes down to a little bit of research and a phone call or visit at their offices.
If you'd like to chat with an attorney at Colombo Law, don't hesitate to reach out by calling (614) 362-7000 or by filling out our short contact form. We're aggressive, experienced lawyers who do all that we can to make sure our clients receive maximum compensation after a truck accident.
Frequently Asked Questions
How much does it cost to hire a truck accident lawyer?
It's a great question, and the answer is that it depends on your final compensation amount. Your attorney fees will be a percentage of this amount, which is known as a contingency fee arrangement. With this model, your attorney doesn't get paid unless and until they win your case. That way, you don't have to worry about additional bills while attempting to resolve your case. This is how almost all accident attorneys work, including the attorneys here at Colombo Law. In fact, if an accident attorney asks for upfront or ongoing payment as they're working on your case, it could be a bad sign.
How long does it take to resolve a truck accident case?
Ultimately, how long it takes depends largely on how complicated your case is. If it was relatively minor, the issue might be resolved in a matter of weeks. On the other hand, if it was a complicated, expensive accident and the insurance company digs its heels in, it could take months or even years to complete. When talking to an attorney you're considering hiring, ask him or her for an estimate based on the details of your case. The attorney will probably be able to give you an approximate time frame, along with recommendations for how to manage your situation in the meantime.
What can I be compensated for after a truck accident?
Beyond the expenses you have incurred as a result of the accident – including medical treatment, lost wages from time away from work, and future loss of earning potential – the law states that you should be compensated for your pain and suffering and mental anguish or emotional distress. The term "pain and suffering" refers to the physical difficulties you have experienced – and might continue to experience – as a result of an accident. Sometimes, people in serious accidents experience detrimental mental health effects, including PTSD, anxiety, depression, and much more. These effects can lead to a decreased enjoyment in life, and Ohio courts support the idea that the at-fault party should compensate the accident victim for this. How to calculate this pain and suffering – to put a dollar amount on it – can be tricky, but there are a number of accepted methods that we have at our disposal.
How much time do I have to file a claim after a truck accident?
In Ohio, the time limit – known as the statute of limitations – for auto accidents is two years. Nevertheless, it's important not to wait. While your injuries might not seem too serious and you may be tempted to take whatever the insurance company offers you just to get it over with, you could be doing yourself a serious disservice.
Further Reading: How Soon Do You Need to File an Injury Claim After a Car Accident?
What should I do after being injured in a truck accident?
If you've been injured, the first thing you should do is make sure that emergency medical help is on the way. If the accident is bad enough, other witnesses will almost always call the police and they will respond and create a Traffic Crash Report. In a perfect world, immediately after an accident, you would want to make sure you get all of the other driver's information, take photos of the scene, and talk to any witnesses who saw the accident take place. Unfortunately, due to the injuries that are usually caused when an 80,000 pound truck crashes into a 2,000 pound car, it is not always possible to do what you would in a normal car accident; that is why it's recommended you contact a truck accident attorney as soon as possible.
Who is responsible for a truck accident?
It depends completely on your situation. Oftentimes it's the driver, but it could also be their employer or even the truck's manufacturer. After an accident, it's important to use your memory, the evidence, and the testimony of other witnesses to construct a provable narrative about what happened and who was at fault.
Further Reading: Many Truck Accidents Are Caused by Mechanical Failure
Why are truck accident claims so complex?
The simple answer is because there's a lot of money involved, along with a lot of trauma. People are unlikely to admit fault quickly for such a serious accident, and insurance companies will do what they can to minimize the severity of the accident to lower the amount of compensation they have to payout; including hiring nationwide teams of lawyers as 24 hour response teams.
The insurance companies' work in minimizing your case and putting up hurdles to justice starts almost immediately. Also, there is a complicated framework of rules that apply to truck companies and their drivers. Any lawyer handling a trucking case must be familiar with these rules and understand them just as much, if not more, than the trucking companies and their insurer.
Is it worth it to hire a truck accident lawyer?
Unless your accident was very minor with zero injuries, it's almost always worth it to hire an attorney. Polls have shown that twice as many people who hire an attorney receive a payout than those who do not. In addition, those who do manage to receive compensation without an attorney see nearly 4.5 times less compensation than those who win with a lawyer.