Attorneys Handling Truck Accidents Throughout West Virginia
A truck accident lawyer can fight for the compensation you deserve after a crash with a commercial vehicle. No matter what you call them – semi trucks, 18-wheelers, tractor trailers, big rigs, etc. – large commercial trucks are a common sight on the roads around Morgantown and throughout West Virginia.
When fully loaded, these trucks can weigh up to 80,000 pounds. As a result of the massive size and weight, collisions between passenger vehicles and semi trucks often result in serious injuries.
Pursuing compensation after a truck crash is not easy. Multiple parties may be at fault, each of which will deny that they are responsible. The insurance companies for the at-fault parties will attempt to limit the amount they have to pay.
Hurt by a Truck? Colombo Law can help! Please call (304) 599-4229 today for a free consultation. Our truck accident lawyers serve clients in Morgantown and throughout West Virginia.
---
A truck accident can throw your life into chaos. You may be facing significant medical expenses, damage to your property, and other losses. Even worse, you may have lost a loved one in an accident with a tractor trailer.
With all of this in mind, it is important to work with an experienced trucking accident lawyer who can act in your best interest and fight for the full compensation you deserve. The commercial trucking accident attorneys at Colombo Law have been serving clients in trucking accident claims for over 20 years.
How a Trucking Accident Lawyer Can Help You
After a truck accident, it is important to realize the following: Until you hire an attorney, no one is looking out for your interests. Large trucking companies and insurance carriers hire investigators who respond to accident scenes at all times, day or night. The goal of their investigation is to limit their employer's liability for the accident.
Most truck accident victims are taken immediately to the hospital. As a result, you will likely miss out on the opportunity to collect crucial evidence after the accident.
An experienced truck accident lawyer can help you overcome some of the major obstacles you face after being hurt in a crash with a big rig. The trucking accident attorneys at Colombo Law can help you by:
Investigating the accident. The first step in any accident claim is determining how it happened and who is responsible. Our team will respond to the scene of the truck accident immediately to document relevant conditions through photos and videos. We will obtain copies of accident reports from local law enforcement, the West Virginia State Police, and any other agencies that investigated the accident. We will identify witnesses to the accident and interview them to find out what happened in the moments before, during, and after the crash.
Identifying all of the liable parties. One of the key goals of any truck accident investigation is to determine who is at fault. Through investigation of trucking company records, electronic data from the "black box" on the 18-wheeler, examination of the semi truck, and more, our team can ascertain the various factors that caused the crash and, thus, who is responsible.
Calculating the damages in your claim. Truck accident victims who hire an attorney tend to recover much more in compensation than those who don't have legal representation. One of the reasons for this is that people who are unfamiliar with personal injury law don't know all of the types of compensation they may be entitled to after an accident. Our experienced truck accident lawyers will fully evaluate the evidence and hire experts to assess the nature of your losses and determine their monetary value.
Negotiating with the insurance companies. Insurance adjusters are trained to get people to settle their accident claims for less than they are worth. Given the severity of injuries in most truck accident cases, victims who settle may lose out on tens of thousands of dollars they need to take back their lives. At Colombo Law, we know the strategies used by trucking and insurance companies. We steadfastly protect our clients' rights in the face of these companies' efforts to deflect responsibility and underpay or deny legitimate claims.
Taking your case to trial. If the at-fault parties and their insurers refuse to compensate you fairly, Colombo Law will never hesitate to go to court on your behalf. Our truck accident attorneys are experienced negotiators and litigators. We prepare every case as though it will go to trial, and we will aggressively advocate for your right to full compensation in court.
In addition to handling the legal elements of your case, a qualified truck accident lawyer can provide you with valuable emotional support and peace of mind amid the difficult aftermath of the crash. At Colombo Law, we pride ourselves on the quality of service as well as the verdicts and settlements we achieve for our clients.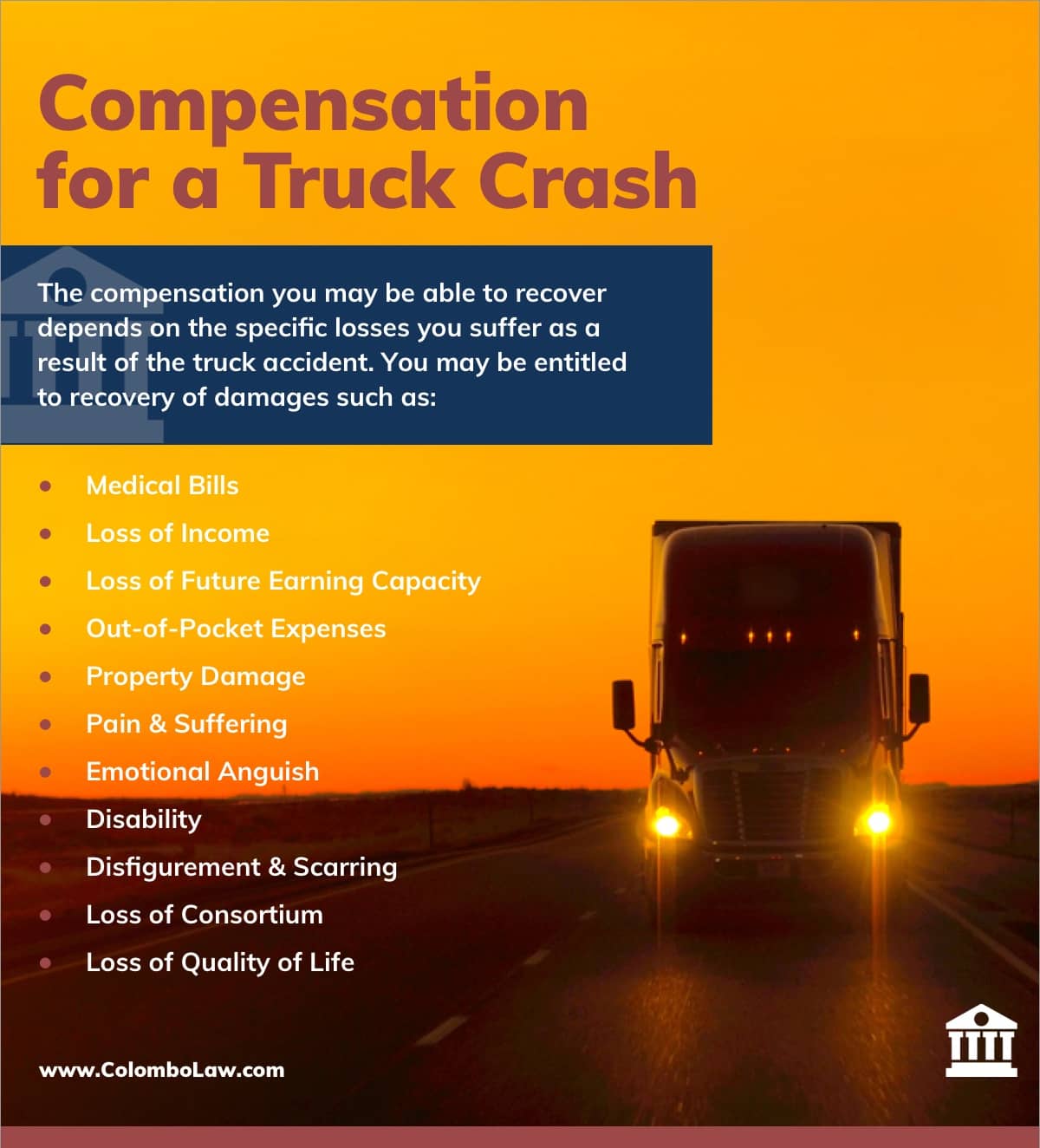 Causes of Truck Accidents
The injuries suffered in a truck accident are generally more severe than those seen in car accidents, but both kinds of crashes are typically caused by some form of negligence. Some of the most common causes of truck accidents are because drivers:
Engage in distracted driving
Fail to obey traffic signals/signs
Speed
Drive under the influence of drugs or alcohol
Fail to take current weather conditions into account
Violate trucking laws
Drive aggressively
Fail to yield right of way
Tailgate
In order to determine why a truck accident occurred, it is important to investigate the crash promptly and thoroughly. An experienced truck accident attorney will examine the behavior of the truck driver and the role of other parties to determine who is at fault.
What Is the Most Frequent Type of Vehicle Accident in the Trucking Industry?
Commercial trucking accidents can take a variety of different forms. Some of the most common types of truck accidents include:
Head-On Collisions: According to the Insurance Institute for Highway Safety, 30% of all truck accident fatalities occur when the front of a big rig collides with the front of a passenger vehicle.
Rear-End Collisions: Commercial trucks require much more room to stop. If the truck driver follows another vehicle too closely or doesn't brake in time, it can lead to a serious rear-end accident.
Side-Impact Accidents: Also called T-bone crashes, these collisions often occur in intersections when the truck driver fails to stop for traffic that has the right of way.
Jackknife Accidents: A semi-truck jackknifes when the trailer swings out to one side of the cab. Issues such as excess speed, improper braking, and loss of traction commonly result in these potentially devastating crashes.
Wide Turn Accidents: Any experienced driver knows to give semi-trucks a wide berth when they turn. Unfortunately, some truck drivers swing the rig too wide or fail to look for nearby cars, which can lead to crashes.
Blind Spot Accidents: Large trucks have huge blind spots on the front, sides, and back of the rig. Truck drivers have a responsibility to check blind spots before changing lanes, merging, making turns, etc. If they fail to do so, smaller vehicles may get caught in the "danger zone" of the tractor-trailer.
Rollover Accidents: Commercial trucks have a high center of gravity. When truck drivers go too fast, execute sharp turns, or swerve, gravity can take over and cause the truck to roll. Drivers in the vicinity of the semi may be struck by a rollover accident, or debris from the truck can spill into the road and hit other vehicles.
Underride Accidents: An underride accident occurs when the top of a passenger vehicle travels under the rear or the side of a trucking trailer. Predictably, most underride truck accidents result in death for those in the other vehicle.
Tire Blowout Accidents: Many different mechanical failures can lead to truck accidents. The tires are among the worst parts that can fail when a commercial truck is in motion. Unfortunately, tire blowouts and other failures are a common issue in serious trucking accidents.
Brake Failure Accidents: The brakes on a semi-truck might fail due to inadequate or improper inspection, neglected maintenance, and/or errors on the part of the truck driver (such as "riding" the brakes while traveling down a steep grade). All of these issues can cause the brakes to fail and cause a crash, especially if the driver loses control (i.e., a runaway truck accident).
Motorists should always use caution when driving around 18-wheelers and other large trucks. Unfortunately, even the most careful driver isn't safe when commercial truckers fail to follow the rules of the road or a tractor-trailer is defective or improperly maintained.
If you have been injured in a truck accident that was not your fault, the Morgantown truck accident lawyers at Colombo Law can build a strong case on your behalf. Our firm has successfully handled a wide variety of large truck accident claims.
We have extensive knowledge of how the trucking industry operates, especially when a big rig is involved in an accident. If you have been hurt by a truck, our attorneys will thoroughly prepare your case and pursue the full compensation you deserve.
Who Is Liable for Truck Accidents?
As you can see, most tractor trailer accidents are the result of truck driver negligence. However, there are other parties that can play a role in causing an 18-wheeler crash.
For instance, the company that employs the truck driver could be found negligent for:
Forcing the driver to work too many hours
Imposing tight deadlines
Hiring inexperienced or improperly trained drivers
Failing to keep up with maintaining the truck's vital systems
Failing to investigate the truck driver's background
Overloading their trucks
Another example of third-party negligence might include the company who manufactured the truck or its parts. Defects, imperfections, or recalls could indicate that the truck was unsafe to operate. However, if the manufacturer fails to notify consumers, the company or companies involved in the design, manufacture, and/or distribution of a faulty vehicle or part could be liable for the accident.
Truck accidents can be one person's fault or it could be the fault of multiple parties. As a result, truck accident claims require a lot of work and can be difficult to handle successfully.
The truck accident lawyers at Colombo Law have extensive experience with complex claims involving 18-wheelers. We help you navigate your legal options and pursue maximum compensation for your injuries.
Truck Accident Statistics
Are Truck Drivers Always at Fault?
Fault is one of the most hotly disputed elements in any truck accident case. The trucking company and the insurance carrier will make every effort to try to claim that it was the driver of the other vehicle, not the commercial operator, who is responsible for the crash.
Statistically, however, this is unlikely. The landmark Large Truck Crash Causation Study by the Federal Motor Carrier Safety Administration (FMCSA) analyzed nearly 1,000 accidents involving commercial trucks over a nearly 3-year period.
Of these large truck crashes, the FMCSA found that some factor in the truck's operation (known as the "critical reason") accounted for 55% of trucking accidents. Where the critical reason was coded to the truck, a whopping 87% of accidents involved truck driver error.
The Large Truck Crash Causation Study divided the causes of truck accidents where the truck driver was at fault into the following categories:
Decision: Poor decision-making on the part of the truck driver involves issues such as leaving too little space between the big rig and other cars, driving faster than conditions allow, failure to break in time to avoid a collision, etc.
Recognition: Errors in recognition generally refer to a driver's failure to see potential hazards and react accordingly. Often, this results from distraction on the part of the commercial driver.
Non-Performance: "Non-performance" refers to events such as falling asleep at the wheel or suffering a medical emergency that renders the truck driver unable to operate the semi.
Performance: Conversely, an error in performance is a deviation from what a qualified truck driver would have done under the circumstances (ex: the truck driver overcorrects to avoid an obstacle in the road, only to strike another vehicle).
Of course, not every truck accident is caused by the driver. Mechanical failures and environmental hazards (such as animals crossing the road) can lead to collisions. However, these make up a small percentage of accidents involving large trucks.
If you were injured or lost a loved one in a truck accident and the driver, trucking company, and/or insurer is disputing liability, it is crucial to speak to a truck accident attorney as soon as possible. The attorneys at Colombo Law will investigate the crash promptly and thoroughly to determine who is at fault.
How Many Accidents Are Caused by Truck Drivers?
This is a difficult question to answer. Although local police might make a preliminary determination of fault in a trucking accident, these findings are generally not included in the statistics and reports prepared by state and federal governments.
According to statistics from 2020 (the most recent year of data) collected by the National Highway Traffic Safety Administration (NHTSA), 439,206 accidents involving large trucks were reported to U.S. law enforcement agencies. Those truck accidents resulted in 4,965 fatalities and approximately 147,000 injuries nationwide.
If we compare the latest NHTSA data (439,206 truck accidents) with the average percentage of cases where the truck driver is at fault for the crash as reported by the Large Truck Crash Causation Study, we find that an estimated 210,000 truck accidents were likely caused by the truck driver.
Of course, this is only an estimate based on the available data. However, it does give you an idea how many trucking accidents in the United States could stem from errors on the part of commercial truck drivers.
How Many People Die in Truck Accidents?
Statistics from the NHTSA show that West Virginia had 370 fatal vehicle accidents in 2020 (the most recent year of data). Of those deadly crashes, 34 involved large trucks. As such, trucking accidents accounted for approximately 9% of the fatal crashes in West Virginia.
A total of 32 people died in truck accidents in West Virginia in 2020. The majority of those killed (68%) were people outside the truck (such as the occupants of other vehicles, pedestrians, etc.).
Proving Negligence in a Truck Accident Claim
In order to recover the compensation you deserve, it is crucial to identify how the truck accident occurred and who is responsible. A truck accident lawyer can collect and preserve a wide range of evidence that can strengthen your claim.
Our lawyers will do the hard work on your behalf to collect:
Camera footage
Witness statements
Expert testimony
Police reports
Phone call information
Electronic logging device data
The trucker's driving logs
The trucking company's maintenance and weigh-in records
Historical information on the truck, the driver, and the company
Information on trucking law violations
Criminal records
Manufacturer recall and defect information
Experience is key in truck accident litigation. Our trucking accident lawyers know how to investigate the liable parties and determine how their negligence resulted in the crash. Based on the evidence, we pursue the full damages to which you are entitled.
Common Injuries in Truck Accidents
Severe and catastrophic injuries are common in trucking accidents. The worst-case scenario, fatalities, also occur with alarming frequency in these crashes.
At Colombo Law, our truck accident attorneys have helped clients and their families with truck accident claims involving a wide range of injuries, including:
Brain injuries
Injuries to the face
Neck and back injuries
Spinal cord injuries (including paralysis)
Broken bones
Soft tissue damage
Internal bleeding
Organ damage
Serious injuries often require lengthy recovery. Diagnosis, treatment, and ongoing care are all very expensive. Victims may be unable to work, and their families' lives may be turned upside down by the time and the costs involved.
If you were seriously injured in a truck accident that was not your fault, or your loved one died in a collision with an 18-wheeler caused by negligence, you and your loved ones deserve compensation.
What Can I Be Compensated For After a Truck Accident?
The compensation you may be able to recover in your claim depends on the specific losses you suffer as a result of the truck accident. Our Morgantown trucking accident lawyers will pursue all of the compensation you are entitled to for damages such as:
Medical bills
Loss of income
Loss of future earning capacity
Out-of-pocket expenses
Property damage
Emotional anguish
Disability
Disfigurement and scarring
Loss of consortium
Loss of quality of life
Multiple factors affect the potential compensation in a truck accident claim. This includes the nature, extent, and severity of your injuries, as well as the strength and availability of the evidence in your case.
The truck accident lawyers at Colombo Law will conduct a comprehensive investigation and collect as much evidence as possible to build your claim. We will also work closely with your doctors and other experts to understand how serious your trucking accident injuries are and what the monetary value of your losses may be.
What If My Loved One Was Killed in a Truck Accident?
Fatalities are common in commercial trucking accidents. Tragically, it is often the people in other vehicles who pay for a truck driver's negligence.
If your loved one was killed in a truck accident, you and your family may be able to recover compensation through a wrongful death claim. Recoverable compensation in a wrongful death claim may include:
Funeral and burial expenses
Loss of income and other economic support
Loss of household services and support
Sorrow and mental anguish
Loss of companionship, society, etc.
The cost of medical care provided prior to death
Multiple family members may be entitled to damages in a wrongful death claim. However, West Virginia Code § 55-7-6 limits the right to take legal action to the personal representative of the deceased.
Colombo Law can help you and your family through the difficult aftermath of a fatal truck accident. Our attorneys will assess your legal options and advise you of the next steps for bringing a claim.
Why Should I Hire a Lawyer for a Truck Accident?
The answer is simple: Hiring a truck accident lawyer is the easiest and safest way to ensure you'll be treated fairly by the people who hurt you. After an accident, you'll be contacted by the trucking company, their insurance adjusters, and their lawyers. You may even be offered a settlement. It's important to remember that these people are not interested in helping you, and the settlement they offer you is probably far less than you deserve. This is a tactic used to keep you quiet, avoid going to court, and pay you as little as possible.
The truck accident attorneys at Colombo Law advocate for you. Our lawyers protect your rights and your interests in preparing your case, during settlement negotiations, and at trial. We use our years of experience and legal resources to obtain evidence to build your claim and pursue the compensation you deserve.
Contact Our Morgantown Truck Accident Lawyers Today
If you have been injured or a loved one was killed in a collision with a semi truck, it is important not to try to handle your case alone. The truck accident lawyers at Colombo Law have decades of experience helping victims and their families recover the compensation they deserve after crashes involving big rigs.
Please call (304) 599-4229 today for a free consultation. Colombo Law serves clients in Morgantown and throughout West Virginia.
Truck Accident Lawyer FAQ
How Much Does It Cost to Hire a Truck Accident Lawyer?
At Colombo Law, we handle truck accident claims on a
No Fee Promise
. Also known as a contingency fee agreement, you pay us nothing upfront. If we successfully resolve your case through a settlement or jury verdict, you pay us a percentage of the recovery. Your initial consultation is free, so you don't have to worry about any legal bills when you meet with one of our lawyers or while we work on your case.
How Long Does It Take to Resolve a Trucking Accident Claim?
A number of factors will influence how long it takes to resolve your case after a truck accident. These factors include the seriousness of your injuries, the damages you are seeking, and the willingness of the at-fault parties and their insurance companies to negotiate. Ultimately, it may take months for your truck accident claim to proceed through settlement negotiations and, if necessary, the courts. Some claims take years to resolve. When you meet with a truck accident attorney, ask for an estimate of how long your case may take.
FURTHER READING: How Do Truck Accident Lawsuits Work?
How Much Time Do I Have to File a Truck Accident Claim?
In West Virginia, the statute of limitations for personal injury claims (including those involving truck accidents) is 2 years (see
West Virginia Code § 55-2-12
). Wrongful death claims are subject to the same time limit (
see West Virginia Code § 55-7-6(d)
). With such a small window to pursue compensation, it is important to speak to a truck accident lawyer as soon as possible. You and your family will be barred from recovering compensation if you don't file a claim within 2 years of the accident.
What Should I Do After Being Injured in a Truck Accident?
After being hurt in a collision with a big rig, your first priority is to get treatment for your injuries. You may be taken directly to the hospital from the scene of the truck accident. If not, you should go to the emergency room as soon as you leave the scene. If you are not badly hurt, take time to take photographs of the accident, speak to witnesses, and exchange information with the truck driver and anyone else involved in the crash. You should also consider contacting a lawyer as soon as possible.
Why Are Truck Accident Claims So Complex?
Ultimately, the complicated nature of truck accident litigation boils down to money. Trucking companies, product manufacturers, and other parties frequently at fault in tractor trailer accidents are often large corporations with a lot of money, and their insurance carriers are in the business of paying as little as possible for accident claims. In addition, truck accidents generally result in serious and catastrophic injuries. The medicine behind these injuries is complex, and the injuries themselves may require advanced care. As a result, the losses in a truck accident claim are typically much higher than cases involving other types of motor vehicle collisions. Finally, semi trucks and other commercial vehicles are subject to extensive federal and state regulations. The truck accident attorney you hire must know these rules and how they apply in your case.
How Do I Choose a Truck Accident Attorney?
Experience, results, and client testimonials are a few of the main qualities to consider when you're looking for a truck accident lawyer. However, for many clients, the decision to hire Colombo Law comes after the initial meeting with our team. Clients are impressed not only by our knowledge and the verdicts and settlements we have achieved, but our commitment to doing what's right. We handle "The Big and The Bad" cases because that is where our experience lies, and those are the clients who need our help the most.
FURTHER READING: How to Choose a Truck Accident Lawyer