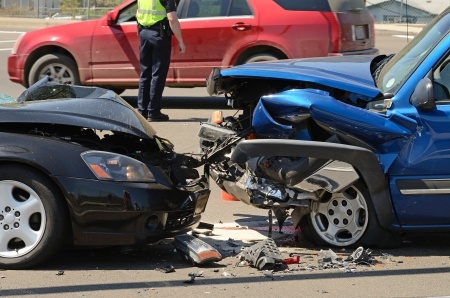 A motor vehicle is the most dangerous form of transportation. From 2009 to 2013, more than 113,000 lives were taken in fatal car accidents. Each year, drivers are injured in fender benders, rear end collisions, sideswipes, t-bone accidents, and head-on collisions. Accidents often have a devastating impact on the injured party and their loved ones. If you or someone you know has been involved in a car accident, contact an experienced personal injury attorney for help with your personal injury legal needs.
Head-on collisions are traffic accidents in which the front ends of two motor vehicles hit each other while traveling from opposite directions. Typically, head on collisions occur while driving at high speeds. They also are more likely to occur on single-lane roads as opposed to highways. Because of this, head on collisions are often the most dangerous types of accidents. In fact, the impact of such accidents make most head-on collisions fatal.
Causes of Head-on Collisions
Safe driving practices reduce the likelihood of head-on collisions. Many head-on collisions occur due to the following circumstances:
Low visibility during nighttime driving;
While the chance of an accident is greatly increased with any type of driving distraction, precautionary measures exist to help drivers avoid head-on collisions. This includes the installation of rumble strips in the center of two-lane rural roads as well as medians and center dividers to prevent motorists from illegally passing.
Even when individuals are fortunate enough to survive a head-on collision, they risk serious bodily injury. After head-on collisions, parties to the accident are likely to suffer from traumatic brain injuries, broken bones, or spinal injuries. During recovery, parties easily fall behind on monthly living expenses and their financial circumstances are easily complicated due to loss of work and increased out-of-pocket medical costs. Our attorneys want to help you or your loved one regain financial stability by bringing a personal injury action for your damages. These damages may include lost wages, pain and suffering, out- of-pocket medical expenses, as well as any other out-of-pocket costs caused by your accident.
Contact Colombo Law
Colombo Law is a personal injury law firm located in Morgantown, West Virginia. Since opening, our car accident lawyers have helped thousands of victims recover the maximum amount of compensation possible for their injuries.