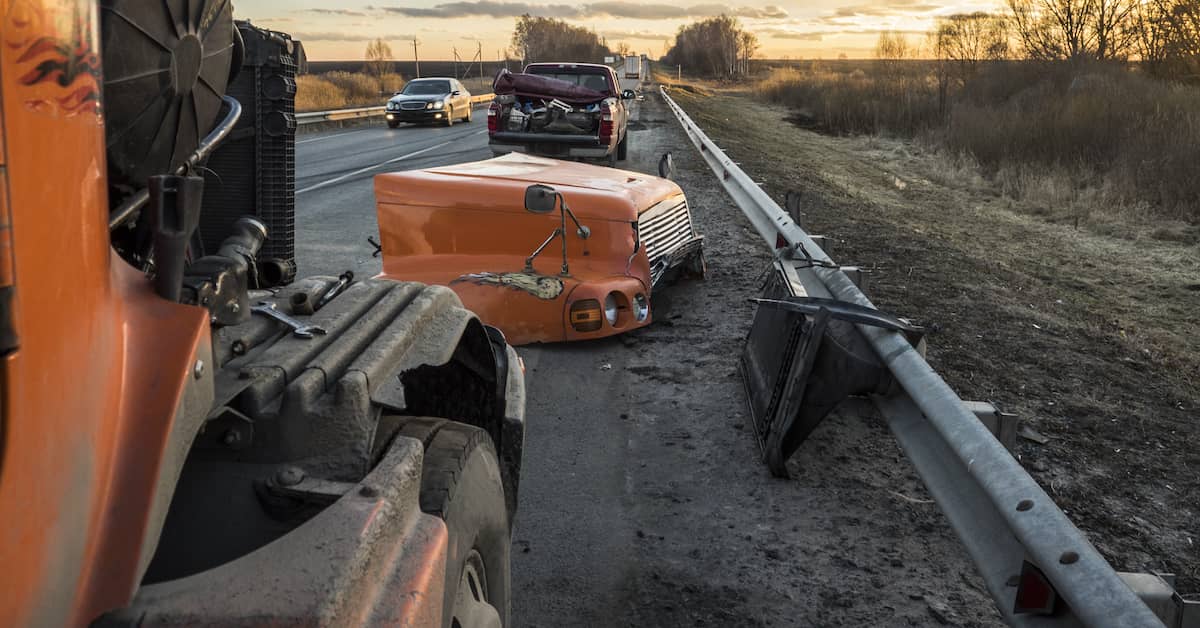 Truck crash statistics paint a grim picture of the impact of 18-wheeler accidents. Although truck crashes make up only a fraction of the total number of vehicle collisions, accidents involving semi-trucks account for a disproportionately high percentage of fatalities and serious injuries.
At Colombo Law, truck accidents are a major focus of our practice. We keep a close eye on truck crash statistics (as well as accident data as a whole) to identify patterns in motor vehicle wrecks and provide superior representation to clients who have been injured or lost family members through no fault of their own.
If you have been in a truck crash, you are more than a statistic. Call Colombo Law at (304) 599-4229 today for a FREE case review.
Truck Crash Statistics in West Virginia
Truck accident statistics are maintained by the Federal Motor Carrier Safety Administration's Motor Carrier Management Information System (MCMIS). In 2020, MCMIS recorded the following truck crash statistics in West Virginia:
A total of 880 truck accidents occurred in West Virginia
964 vehicles in West Virginia were involved in truck crashes
Large truck accidents in West Virginia resulted in 346 injuries
32 people were killed in West Virginia semi-truck accidents
By and large, these trends were worse in 2021. The number of truck accidents increased by 13.75%, the number of vehicles involved in collisions grew by 12.34%, and the injury rate in truck accidents was 12.43% higher. The number of fatalities basically stayed the same, with 31 people dying in crashes with a large truck.
From 2020 to 2021, 40% of the victims of trucking accidents in West Virginia suffered injury and 3.35% were killed. These sobering statistics show just how dangerous a collision with an 18-wheeler is. They also illustrate how important it is to be aware of your legal rights and options.
Car Accident Statistics in West Virginia
Accurately accounting for the number of car accidents in our state is challenging. The government of West Virginia does not report yearly accident totals, making it difficult to quantify just how many crashes occur.
However, the Governor's Highway Safety Program does provide annual reports on key safety trends. The most recent annual report reveals that West Virginia had 267 traffic fatalities in 2020. Although no official statistic was released, the report also notes that 802 people were seriously injured in traffic accidents.
Some of the most notable trends in accident fatalities for West Virginia in 2020 include:
84 people (approximately 31%) who died in motor vehicle accidents weren't wearing seat belts at the time of the crash.
Drivers whose blood alcohol content exceeded the legal limit (0.08) accounted for 76 fatalities in crashes (approximately 28% of deaths).
60 fatalities (approximately 22%) occurred in accidents caused by speeding.
According to the Insurance Institute for Highway Safety, the number of motor vehicle deaths per 100,000 people for the United States as a whole was 11.7 in 2020. West Virginia had 14.9 accident-related deaths per 100,000 people for the same period. As such, our rate of deaths in crashes is higher than the national average.
Car vs. Truck Accident Statistics
Because the total number of car accidents in West Virginia is not reported, we can't say for sure what percentage of crashes in the state involve semi-trucks. However, comparing MCMIS data to the latest Governor's Highway Safety Program annual report shows us how serious of a problem trucking accidents are in West Virginia:
Serious Injuries
802 instances of serious injury were recorded in West Virginia traffic accidents in 2020. According to MCMIS data, truck accidents in West Virginia resulted in 346 cases of injury.
The Federal Motor Carrier Safety Administration does not distinguish between different degrees of injury. However, truck accident injuries are usually serious. As such, they are very likely to be reported to the authorities. With these two facts in mind, we can confidently conclude that injuries in truck crashes in 2020 made up an alarming 43% of the serious injuries attributed to auto accidents in West Virginia.
Deaths
A total of 267 people tragically died in crashes in West Virginia in 2020. That same year, MCMIS reported 32 fatalities in trucking accidents.
Based on these data, we can see that truck accident fatalities in 2020 accounted for approximately 12% of all crash-related deaths in West Virginia. That year nearly one in eight accident fatalities occurred in truck crashes.
You Are Not a Statistic. Contact Colombo Law Today
Ultimately, truck crash statistics and data on other types of accidents are just numbers. They often fail to tell the story of the tragic consequences for the people involved.
At Colombo Law, we focus on representing individuals and families who have been harmed due to the negligence of car and truck drivers, trucking companies, and other parties. We take on the burden of fighting with defendants and insurance companies so our clients can focus on recovery.
Contact Colombo Law for a FREE case review. Our attorneys handle accident claims on behalf of clients in Morgantown and throughout West Virginia.